The Uprising in the US following the police murder of George Floyd has seen actions to attack and tear down the statues of racist cops, Confederate soldiers and genocidal colonizers.

As the rebellion spread beyond US borders, Black protesters of Bristol city in Britain tore down the statue of slave trader Colston.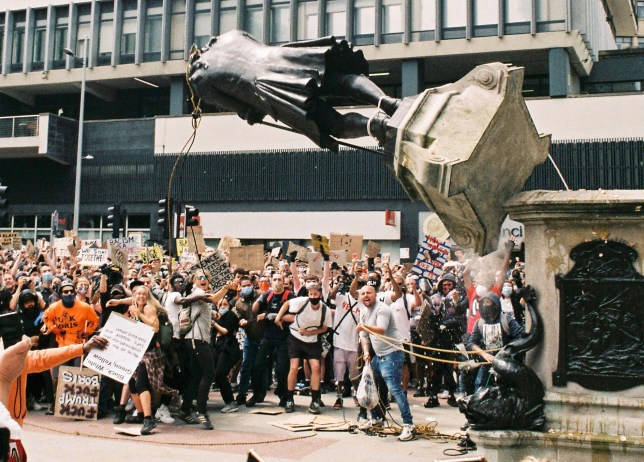 This is good and proper – it is right to rebel!

In Ireland this manifested in some different ways.
The opportunist neoliberal Taoiseach of the Irish Free State Leo Varadkar was quick generate a phony "popular demand" for 1930s IRA leader Seán Russell to come down.

The allegation Sean Russell was a Nazi collaborator is debunked in this short video:

The simultaneous attempt by Irish fascists to claim Russell as one of their own is debunked in this interview:

Leo Varadkar is well known for his cheap opportunism. In 2015 he came out as gay when it was obvious the Gay Marriage vote in Ireland would pass by a landslide, and was soon after touring other countries – lecturing them to keep radical and militant LGBT activists marginalised.

Irish Republicans mounted a united commemoration by several groups in response to this campaign by Free State politicians and media.

Irish fascist anti-republicans such as the National Party and Niall McConnell were driven-off and reduced to jumping out of cars for quick photos ops by the statue before driving off.

Soon however the statue was painted with a a black-inclusive rainbow flag.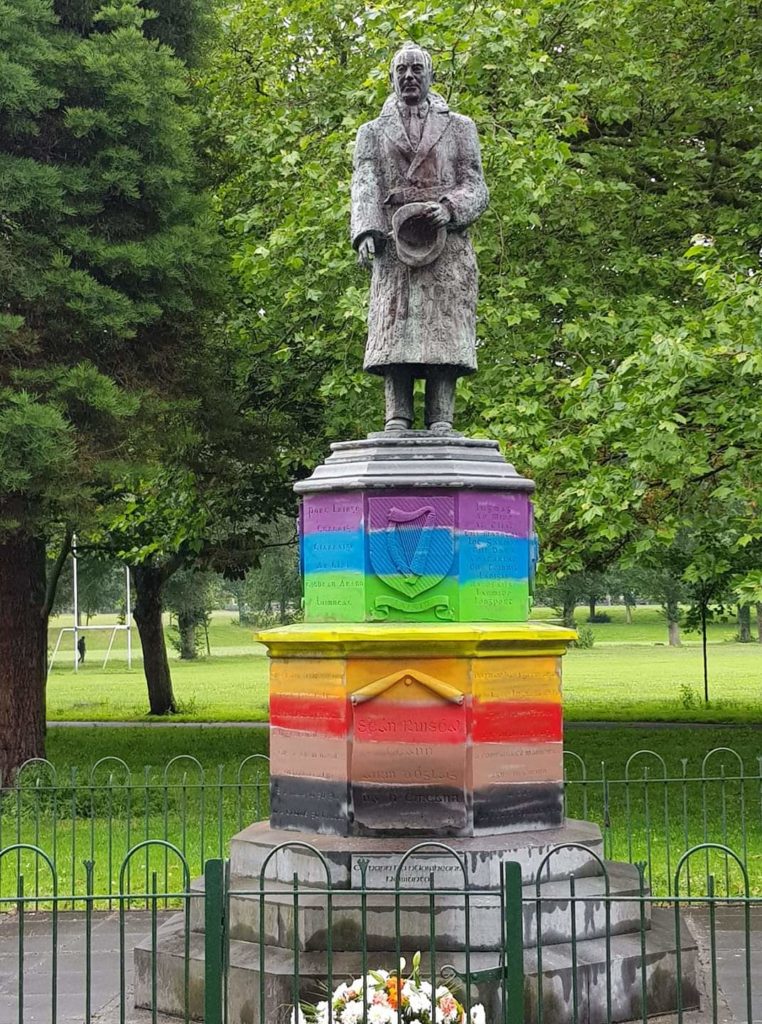 This is a logical non sequitur.Neither Sean Russell nor the IRA had any homophobic history or actions.

Fairview park is the location where a gay man, Declan Flynn, was murdered in 1982.Many point to this as the start of the modern Irish Gay Rights movement.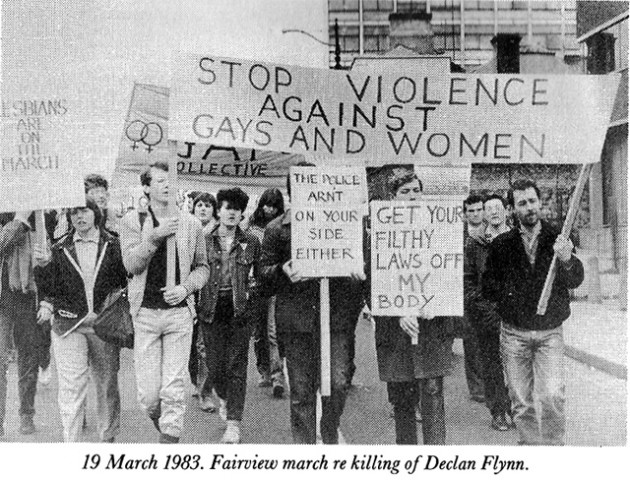 As socialist republicans militating for national liberation and socialism for the whole island of Ireland, the line is clear: Fairview park should commemorate local man Seán Russell and local man Declan Flynn.
Attempts to divide national liberation, socialism, LGBT rights and other righteous struggles must fail.

These struggles are all interlinked, and the basis of solidarity is that no one is free until all are free. For one thing: is was Sean Russell's IRA in the 1930s which foiled the Blueshirt fascist coup. The concentration camps and ISIS style executions which Leo Varadkar's Fine Gael predecessors carried out would have been massively expanded had they succeeded.

This is not the first time Sean Russell statue has been vandalised.
The first time was in the 50s by Irish fascists Ailtirí na hAiséirghe due to the Russell statue's socialist salute and Russell's time in the Soviet Union in the 1920s.
In recent years the statue was decapitated and daubed with swastikas. No group claimed responsibility. Around the same time the Jewish museum of Dublin was attacked and painted with swastikas also.

These actions could have been those of:
Irish Nazis attempting to claim Russell as a Nazi
Irish fascists trying to depict Republicans as Nazis
Irish liberals trying to depict Republicans as Nazis
There is a similar pattern with the recent statue attack: both Irish liberals and fascists use or are aware of the black pride flag painted on the statue.

The Irish far right have been excitedly claiming painting is a "declaration of war" by "degenerates".

The Irish LGBT community debate has involved LGBT Republicans and socialists upholding a correct line against LGBT liberals and reactionaries.
The long-standing Irish Gay Community News magazine wrote an intelligent and reasonable article on the painting, interviewing historians Donal Fallon and and Brian Hanley about it.
The British Pink News on the other hand wrote a chauvinist and ignorant article, citing SDLP relics
https://www.pinknews.co.uk/2020/06/24/sean-russell-nazi-collaborator-statue-fairview-park-painted-pride-colours-leo-varadkar
This is a good example of "false nationalism, false internationalism" from an outlet which celebrates homo-nationalist Peter Tatchell.

The day after Seán Russell's statue was painted, two statues of beloved balladeer Luke Kelly were vandalized. Since Luke Kelly was a card-carrying communist this lends weight to suspicion a far-right vandalism campaign is underway. A single depraved individual with an obsession cannot be ruled out, of course.

Meanwhile a tree sculpture in raheny park was set on fire apparently by destructive and self-destructive youth who have dropped out of society.

And finally in the south of Dublin a fountain dedicated to the 'Genocide Queen' Victoria was splashed with red paint.

Victoria oversaw the death by famine of several million people in Ireland, India and beyond. She also oversaw the Opium Wars against China, the first continental-scale drug deal; later mirror by the US Contra-cocaine and Mujahideen-heroin conspiracies in the 1980s.

To sum up:
It is right to tear down statues of slavers and colonizers
It is wrong to to attack anti-colonial fighters
Attempts to divide national liberation from socialism and from LGBT rights must be combatted
Irish fascists attack Republicans, socialists, Jews, migrants, LGBT and others – both as people and their symbols. We need to maintain a United Front against them
Socialist Republicans and others need to do mass-work to provide those engaging in self-destructive vandalism with an option for Revolutionary activities instead of reactionary ones
It is right to rebel! Hands off our patriot dead!