The following is a roundup of the main activism Irish Socialist Republicans engaged in this week as we continue to rebuild the struggle for National Liberation and Socialist Revolution across Ireland
Solidarity with the Brazilian LCP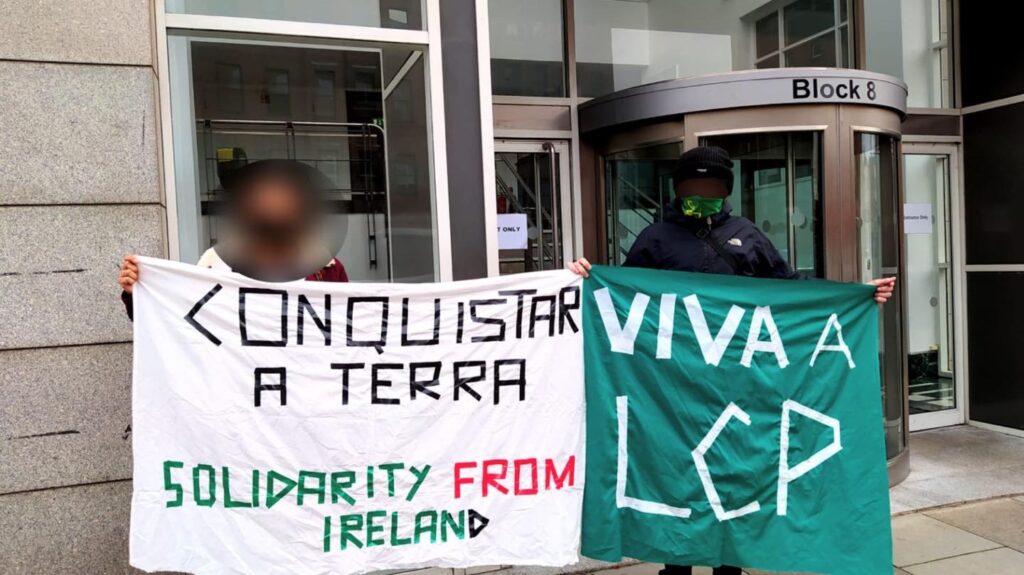 On Sunday October 18, Anti Imperialist Action unfurled banners in solidarity with the LCP, the Brazilian League of Poor Peasants and their ongoing resistance at the Brazilian Embassy in Dublin.
The Irish Working Class stands in solidarity with the Brazilian Peasants and the LCP!
Conquistar a terra! Conquer the land!
Nazi Graffiti Removed In Dún Laoghaire
On Sunday October 18, Anti Imperialists in Dún Laoghaire came across fascist graffiti in the town of the Wolfsangel, a symbol once used by the Nazi SS and by Neo Nazis.
Our activists removed the graffiti and covered the remnants with a Socialist Republican sticker.
Anti Imperialist Action Ireland is committed to the ideological and physical defeat of Fascism and stand proudly in the tradition of the Irish Socialist Republicans of the 1930s who beat the fascists off Irish Streets.
Saor Éire Volunteer LiamWalsh honoured in Dublin
On Monday October 19, Anti Imperialist Action Ireland's Dublin South City Coiste held a dignified wreath laying in honour of Saor Éire Volunteer Liam Walsh in Inchicore.
Liam Walsh, a veteran of the border campaign and a former O/C of the South Dublin IRA Unit, was a founding member of the explicitly Socialist Republican Saor Éire Action Group and lived at 50 Tyrone Place in Inchicore, where the wreath laying took place.
Local Socialist Republicans erected lilies on the fence of the Flat Complex along with posters that included a poster photo of Volunteer Liam Walsh, the Saor Éire Logo and the logo of Anti Imperialist Action Ireland.
Volunteer Liam Walsh gave his life for the All Ireland Socialist Republic on October 13 1970. The cause he died for remains unfinished today, and in remembering Liam Walsh Anti Imperialist Action Ireland are proud to continue the struggle for National Liberation and Socialist Revolution.
Fascist Graffiti Removed in Dublin
On Monday October 19, Anti Imperialists in Dublin's South East Inner City came across Nazi defacement on Black Lives Matter Graffiti near the Historic Mount Street Bridge including a Swastika.
The offensive Nazi Symbol was removed and the #BLM message restored.
If you come across far right graffiti or stickers in your area contact us and we will be happy to remove it.
No Platform for Fascists!
Forced Eviction Resisted In Dublin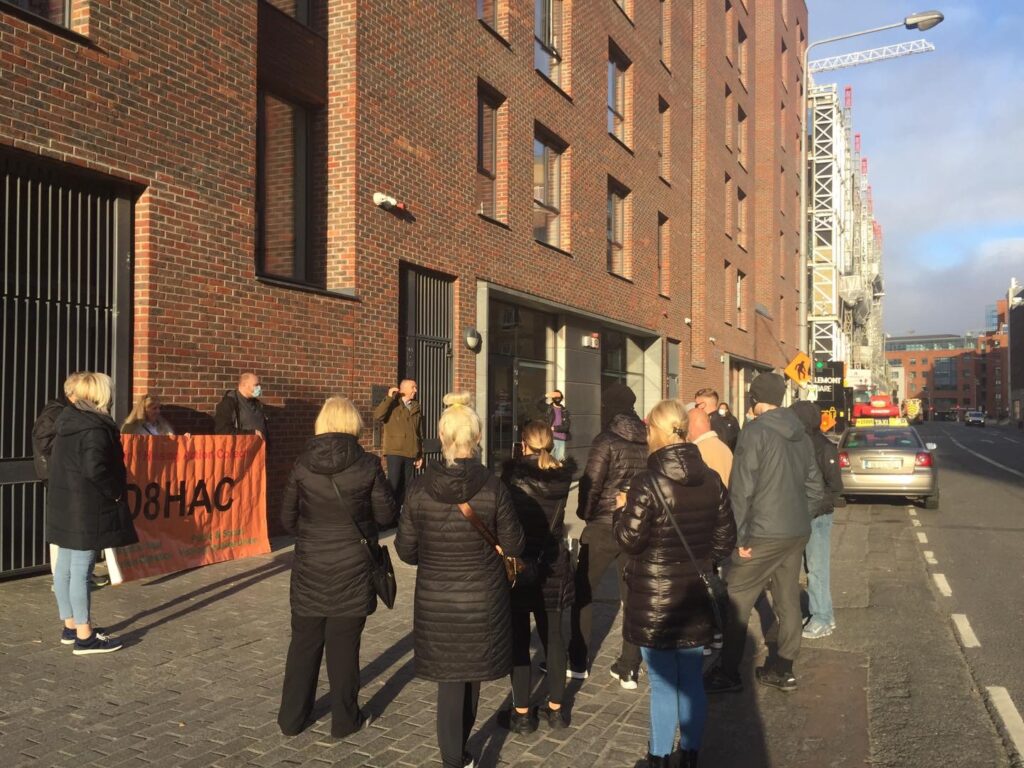 On Wednesday October 20, members of Anti Imperialist Action attended an Anti Eviction Protest at Ffrench Mullen House on Charlemont Street Dublin, where Tuath Housing has planned to evict an 81 year old man from his home.
Faced with strong opposition from the mans friends and neighbors, Tuath Housing have called off the eviction in what is a great victory for residents and the local community and a testament to their work.
With a large crowd assembled, an Anti Eviction Rally was held which was addressed by Peter Dooley of the Dublin Renters Union, Damien Farrell of Dublin 8 Housing Action and Gina Nicoletti, a local resident.
Anti Imperialist Action commends the local residents and all those involved in preventing this eviction, which demonstrates what the Working Class can achieve when organised and disciplined. Wednesday was a clear victory for People Power.
Tuath Housing should hang their heads in shame.
The irony of this eviction taking place at Ffrench Mullen House was not lost on Socialist Republicans. Madeline Ffrench Mullen was an Irish Revolutionary and a leading Commander of the Irish Citizen Army, serving for a time on the Army Council, and was at the fore the class struggle in Ireland. There is no better a location for a People's Victory Against evictions then at a working class housing complex called after a leader of the Irish Citizen Army.
Anti Imperialist Action is committed to opposing all economic evictions and working with residents and communities across the country to build an All Ireland movement against evictions and the scourge of Private Landlords.
As Wednesday's event demonstrates, neighbors standing together successfully resist and prevent evictions. Well done to all involved.
#Keep Liam Home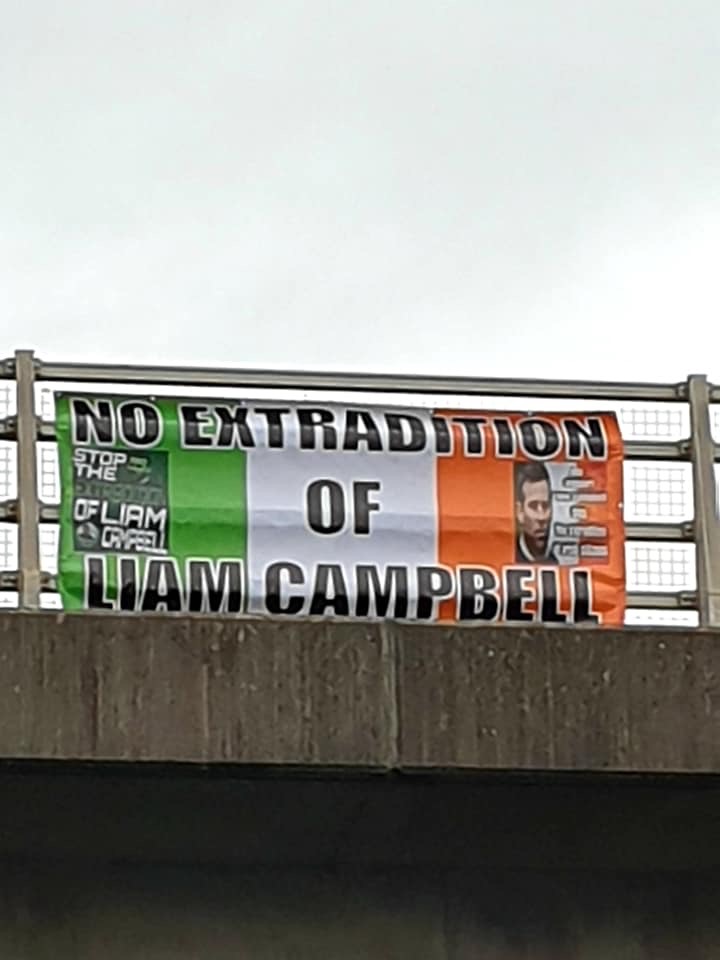 KeepLiamHome
NoExtraditionOfIrishRepublicans
Stop the Extradition of Liam Campbell Campaign continues.
On Saturday 24 , Socialist Republican activists from Anti Imperialist Action in Wicklow held a Banner drop over a Flyover bridge south of Arklow.
Once the Banner was dropped motorists recognised the message and sounded their horns in support.
Anti Imperialist Action Ireland will continue to highlight Liam's campaign and stand opposed to any extradition of Irish Republicans.
100th Anniversary of Volunteers Terance McSwiney and Joe Murphy honoured across Ireland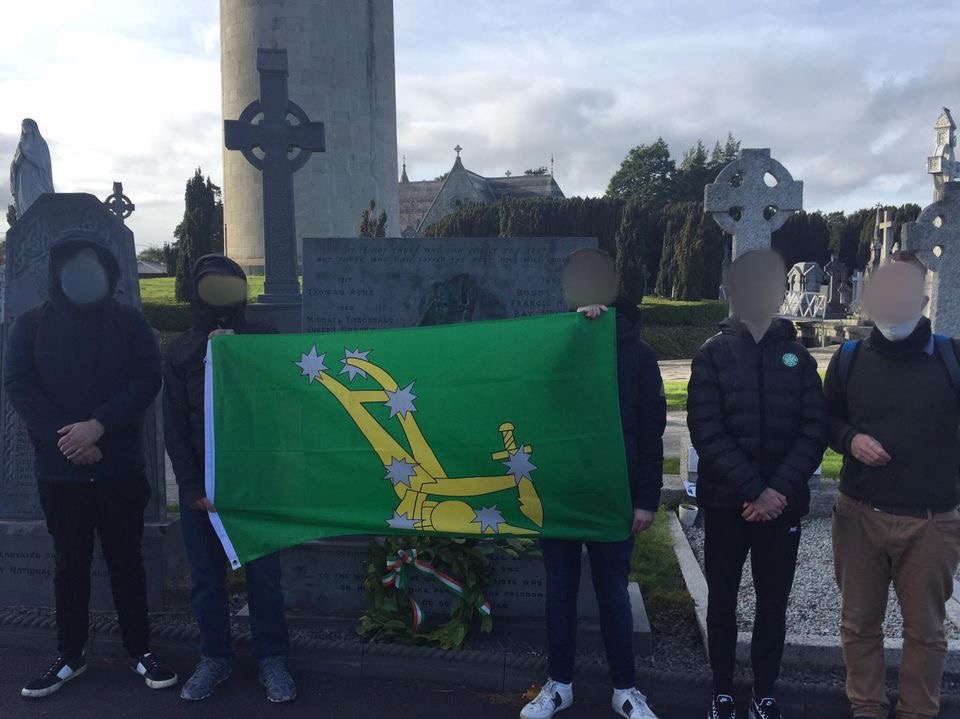 Despite restrictions, IRA Hungerstrikers Terence MacSwiney and Joe Murphy were honoured by Socialist Republicans at events across Ireland to mark the 100th Anniversary of their deaths in the fight for National Liberation. Events were held by Anti Imperialist Action Ireland in Dublin, South Armagh and Wicklow.