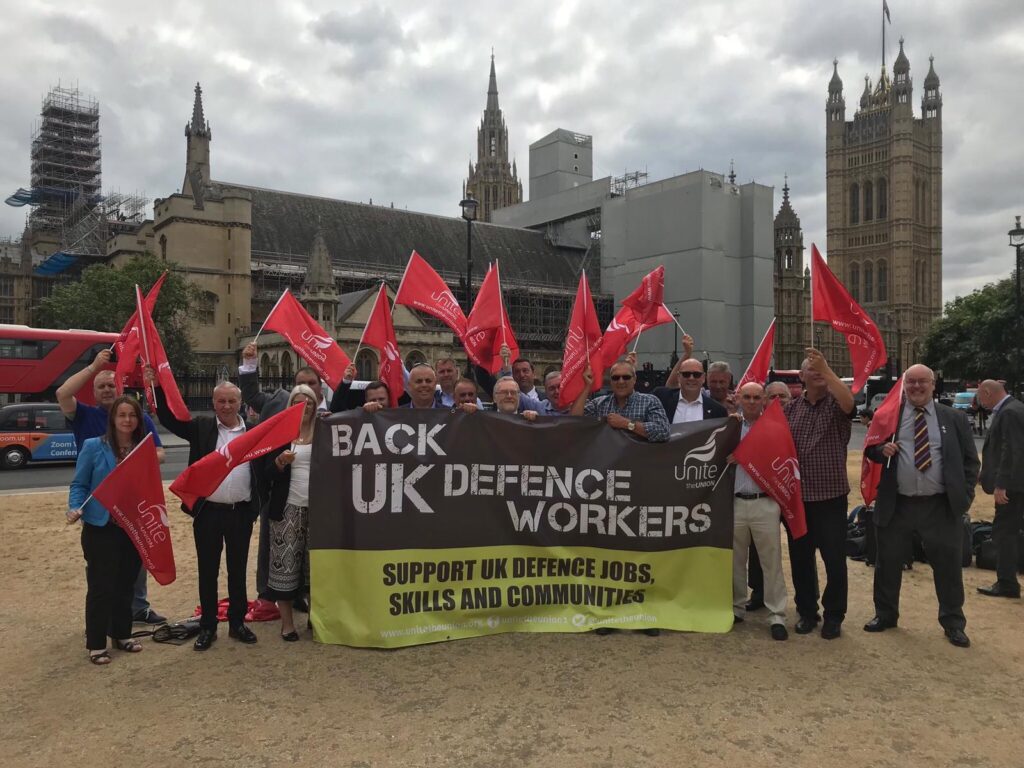 In recent weeks it was announced that a new British imperialist armed forces project was to be developed in Belfast worth 30 million pounds. Spirit Aerosystems in Belfast, which replaced the Bombardier Aerospace facility, is set to produce the first unmanned aircrafts for the British Royal Air Force. And key to the decision to build these death machines in Occupied Ireland was the British trade union, UNITE the Union and its Assistant General Secretary, Steve Turner.
From examining statements made by Unite and Steve Turner in particular we can see that they were key in the process of encouraging the manufacture of these weapons of war in Belfast. In an article dated October 2019 on the Unite website entitled "Investment for future growth must follow sale of Bombardier Aerospace to Spirit Aerosystems", Turner can be found saying that "Today's deal will see Bombardier's footprint here transfer as a whole to one of the world's largest independent producers of aero-structures. This outcome comes off the back of a Unite delegation of shop stewards led by myselfflying to meet the Bombardier chief executive and senior management team in Montreal. We are pleased that Bombardier has heeded our call to be a responsible seller…"
It is obvious that Unite was a key part of ensuring that this manufacturing facility should become a producer of war machines for British imperialism. The same article includes a statement from Unite regional secretary Susan Fitzgerald, who states that "Unite welcomes this announcement and hopes that it will be followed up by investment for growth in the future. Such investment would be good news for the workers and would secure a future at the forefront of the aerospace manufacturing sector in Northern Ireland." It cannot be argued that Unite is merely looking out for the best interests of these workers or the community. Skilled workers would certainly be able to transfer their skills towards an industry that does not aid British militarism. Unite are clearly determined to ensure that British war material is produced in the Occupied 6 counties.
In January of this year Steve Turner can be seen on twitter praising those who work in the factory and celebrating that they have "won" the right to produce a new drone design to rain death down on innocents in Yemen and around the world.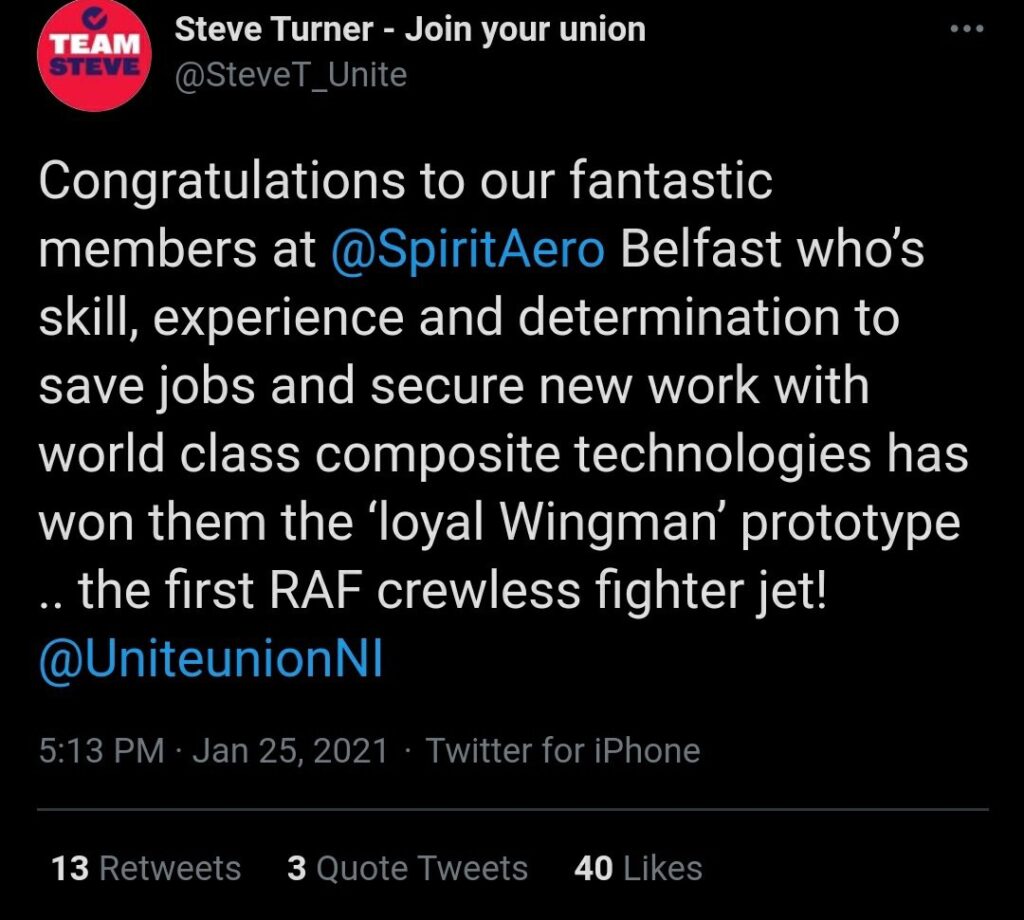 Based in London, Steve Turner is also a member of the British Labour Party. He has made it his mission to ensure that the British War machine be produced in Britain and in the Occupied 6 counties and provide jobs for "British workers". But Turner's support goes beyond merely arguing for more jobs in the war sector.

In May 2019 Turner said on Twitter that British warships should be built "in the UK with UK steel so that our @unitetheunion defence members can know they have Britain on their side", ending with the hashtag #KeepBritainAfloat.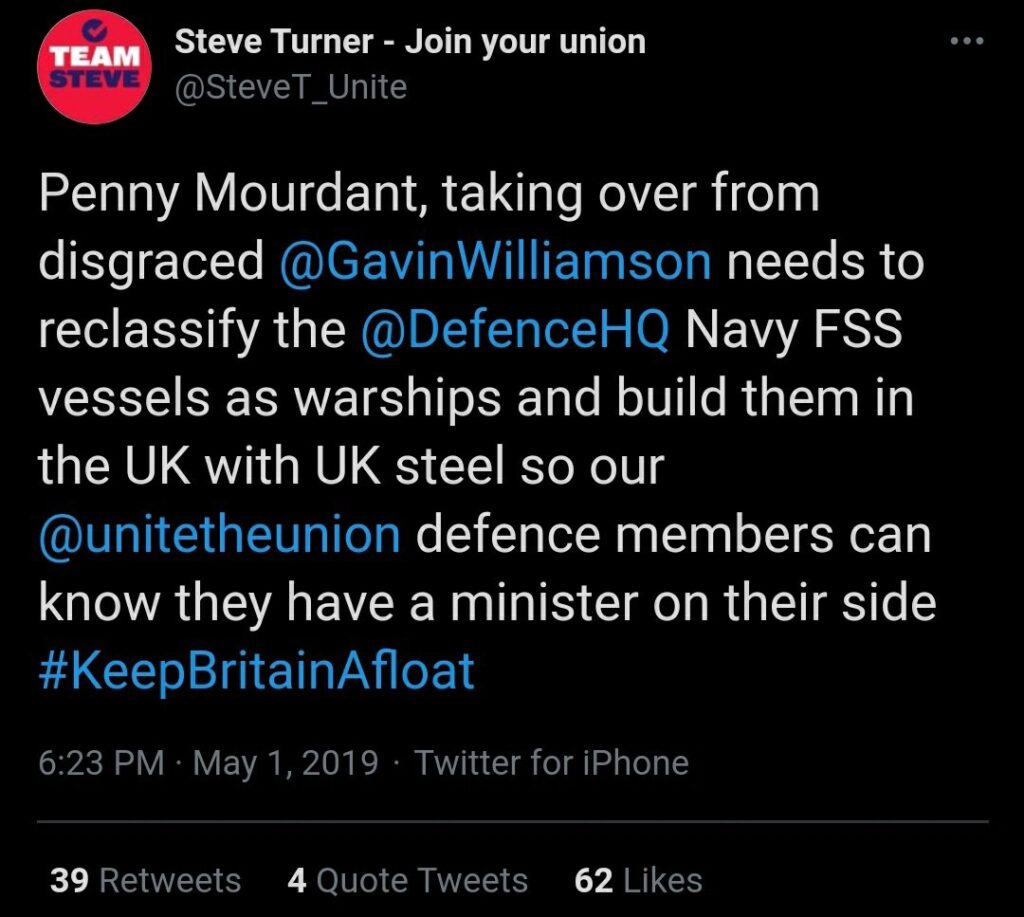 In June 2020, in an article on the United website Turner can be seen lamenting the loss of jobs in the British Aerospace sector, an industry that is key to the British war machine and which he describes as "world class". He goes on further to say "This is a sector that generates billions for the national coffers, helping fund our NHS, public services and the government's promised infrastructure spend. It supports jobs the length and breadth of the country and is central to UK national security. We really cannot understand the government's silence or failure to act." It is also important to note that the link between British imperialism and social democracy is made explicit here.
In a Facebook post on November 19th 2020, Turner can be seen welcoming a BBC article entitled 'Defence funding boost 'extends British influence" as "Welcome news". His only complaint is not the crimes the British military commits across the globe or the terror regimes they supply, but that the weapons they produce are not British enough!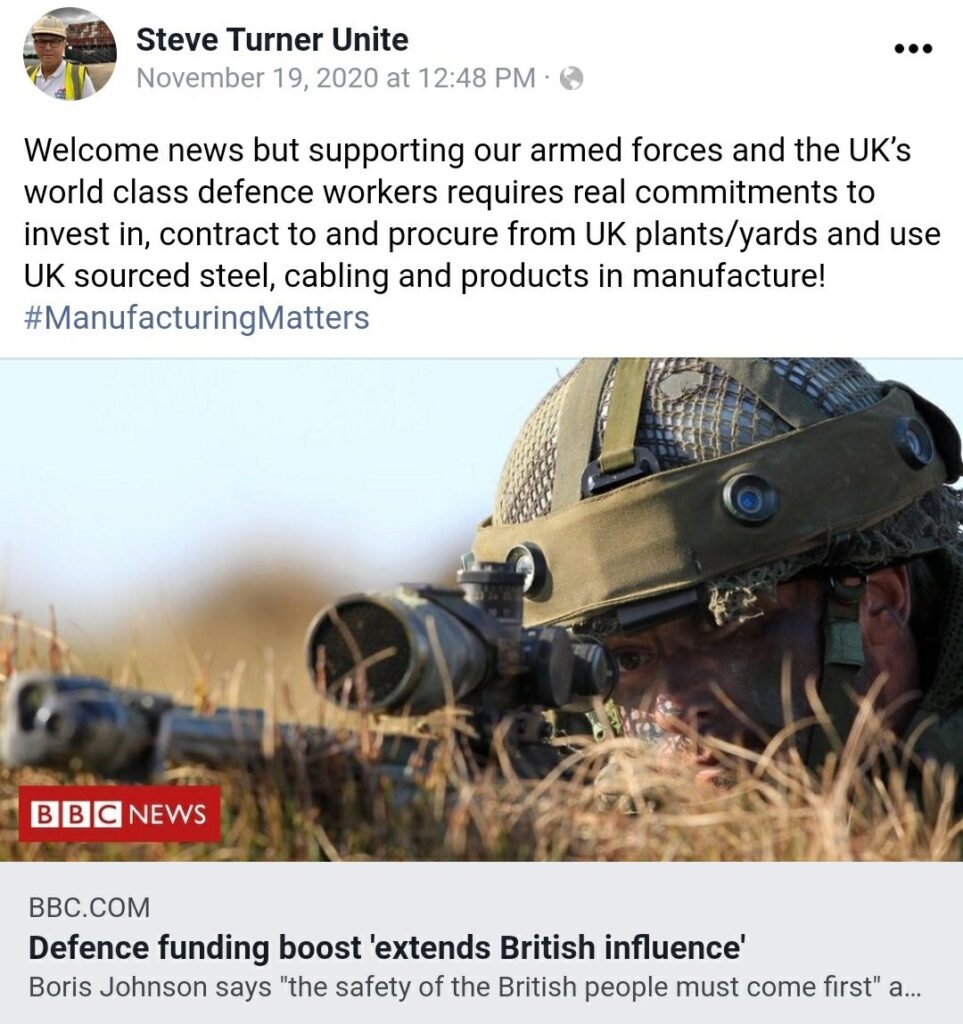 Steve Turner also makes his stance on the question of the Occupied 6 counties clearer in this tweet from October 2018, where he proclaimed he was off to Belfast to "support vessels for our Navy fleet here in UK shipyards".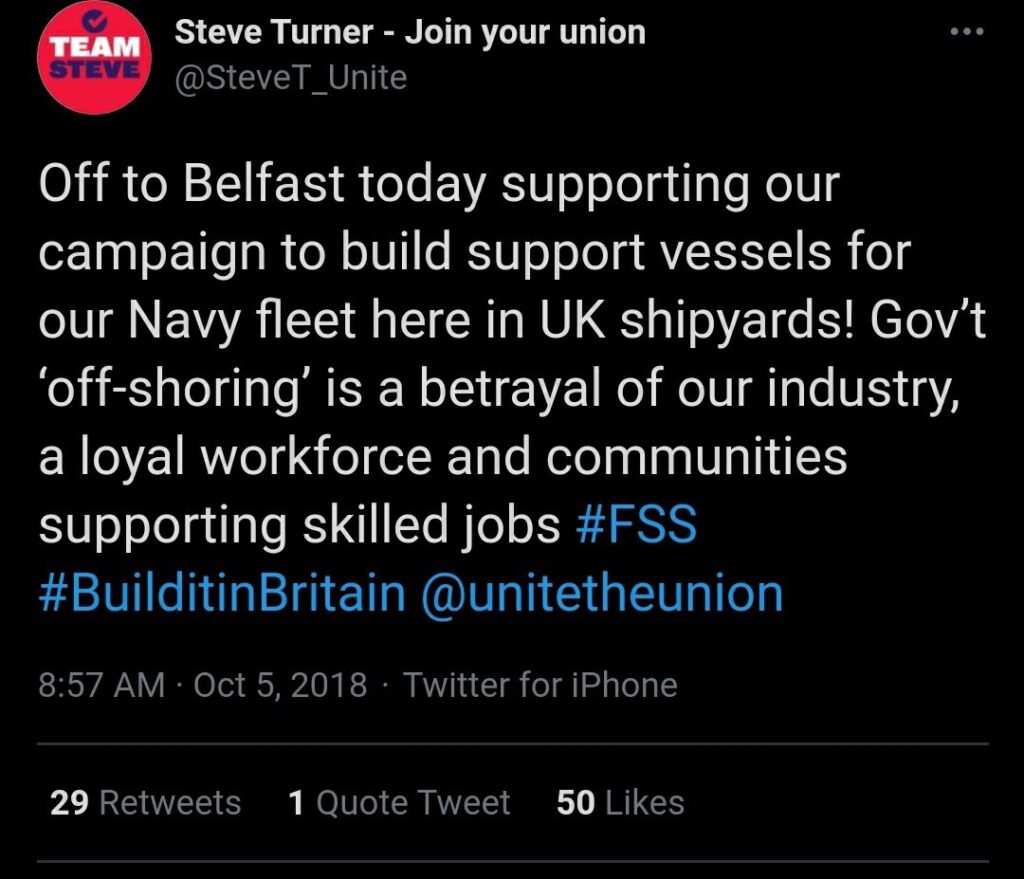 These are only a few among countless examples of support for British imperialism by Steve Turner and Unite the Union in general, who also caused outrage in support "Armed Forces Day" last year. Unite was also key in terms of ensuring that the shipyards in Harland and Wolff got contracts to produce warships for the British Navy when it appeared that the shipyards may be closed in 2019. This contract from the British Navy was valued at 1.25 billion pounds, although it is being shared among other shipyards. Unite as the union representing the workers welcomed the news
Why would the growing influence of British imperialism be seen as a positive thing by a supposed Socialist and Trade Unionist?
The new Spirit Aerosystems project to produce the drones in question would only provide 100 jobs. The defence sector is one which is highly automated as well as dominated almost entirely by a very small section of skilled workers who are paid higher wages than the average. It is this same section of the working class which historically has been identified as a labour aristocracy, and which has formed the backbone of the Labour Party in Britain. In Belfast skilled workers also formed the backbone of Loyalist reaction which has carried out vicious sectarian attacks against Catholic workers in the past. This privileged section of the working class has long been very supportive of British imperialism, which it sees as the only way to guarantee that its position can be secure.
Steve Turner and Unite more broadly join a long list of British "socialists" who are happy to sacrifice the lives of millions and uphold the domination of British imperialism in Ireland and elsewhere, so long as their own cushy position in the pro imperialist trade unions, as well as the position of the labour aristocracy which backs them, is maintained. The social democratic system which allows this is seen as only being possible through imperialism and "national security". British patriotism, support for imperialism and militarism are symptoms of this larger problem.
No Irish Republican or Socialist should support this British Imperialist Union in Ireland. So long as the Unite leadership actively defends the interests of British Armed Forces which occupies our country they are opposed to the majority of the Irish people and our struggle for national liberation, as well as all those struggling against imperialism around the globe.
Sources: