Over the past week, Irish Socialist Republicans have taken part in solidarity actions with the Palestinian Resistance across the 32 Counties of Ireland. The following is a short report of some of the main actions that have taken place
BELFAST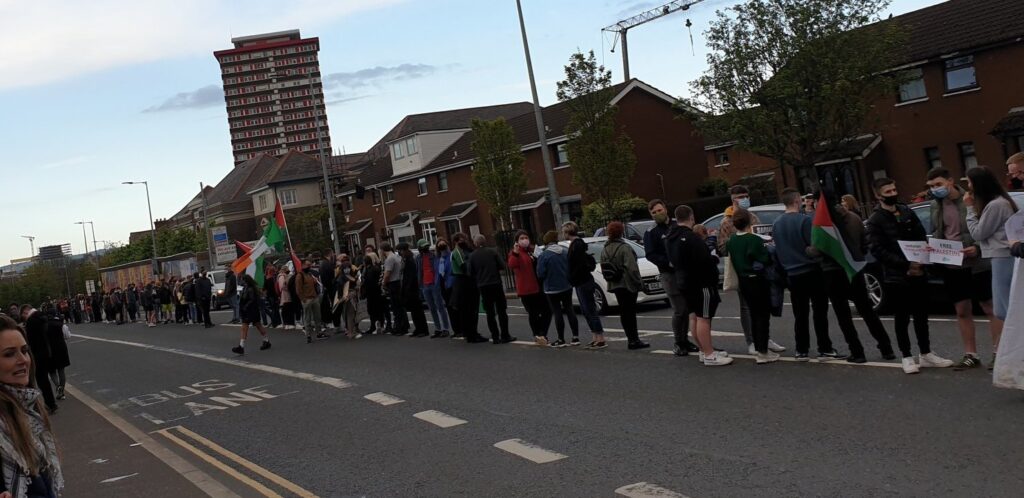 On May 12 Socialist Republicans were among hundreds in attendance at vigil in support of the Palestinian Resistance at the International Wall on the Falls Road.
DERRY
On May 15, to mark Al-Nakba Day, socialist Republicans in Derry to part in a large rally in support of the Palestinian Resistance.
DUBLIN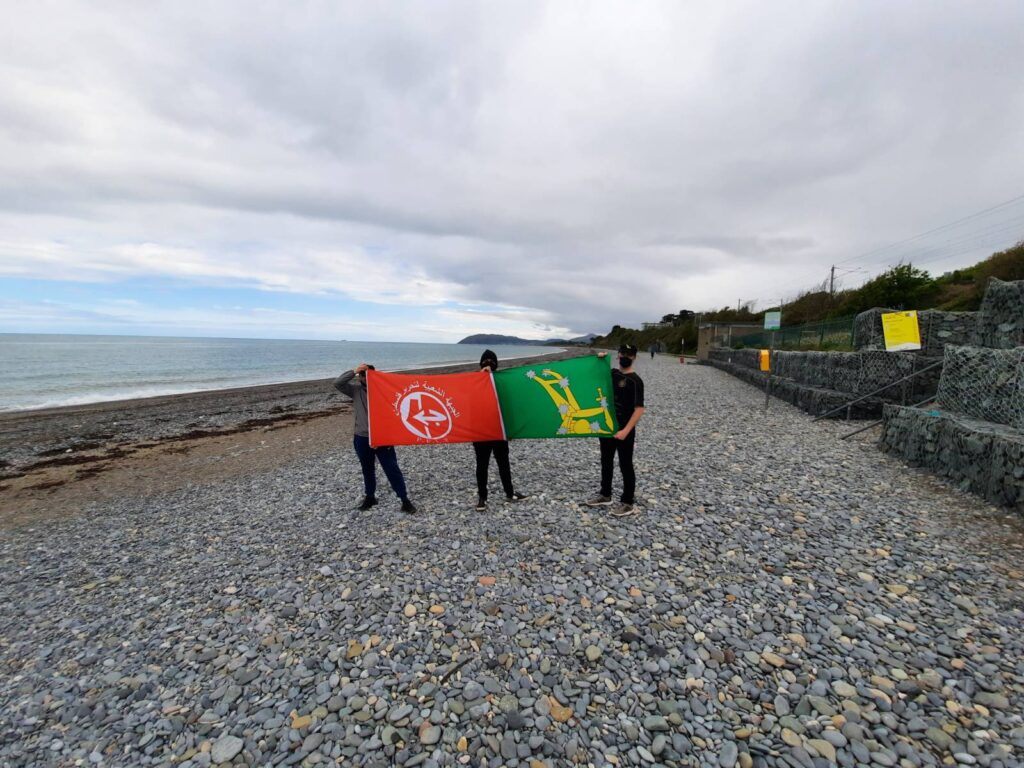 On May 12, Socialist Republicans in Dún Laoghaire displayed the flag of the Popular Front for the Liberation of Palestine during a commemorative walk on Killiney beach marking the 40th Anniversary of IRA Hungerstriker Francis Hughes and 105 Anniversary of Commandant General James Connolly.
On May 15, Socialist Republicans marked Al- Nakba with a day of solidarity with the PFLP and the Palestinian Resistance in the capital. The day began with a series of BDS 'shop-ins' across the city, targeting companies that continue to stock Zionist Goods.
The BDS actions were followed by the burning of the Zionist Flag at the spire by Socialist Republicans and Young Palestinians, before marching to the Zionist Embassy in Ballsbridge in a crowd of several thousand, beneath the red banner of the PFLP.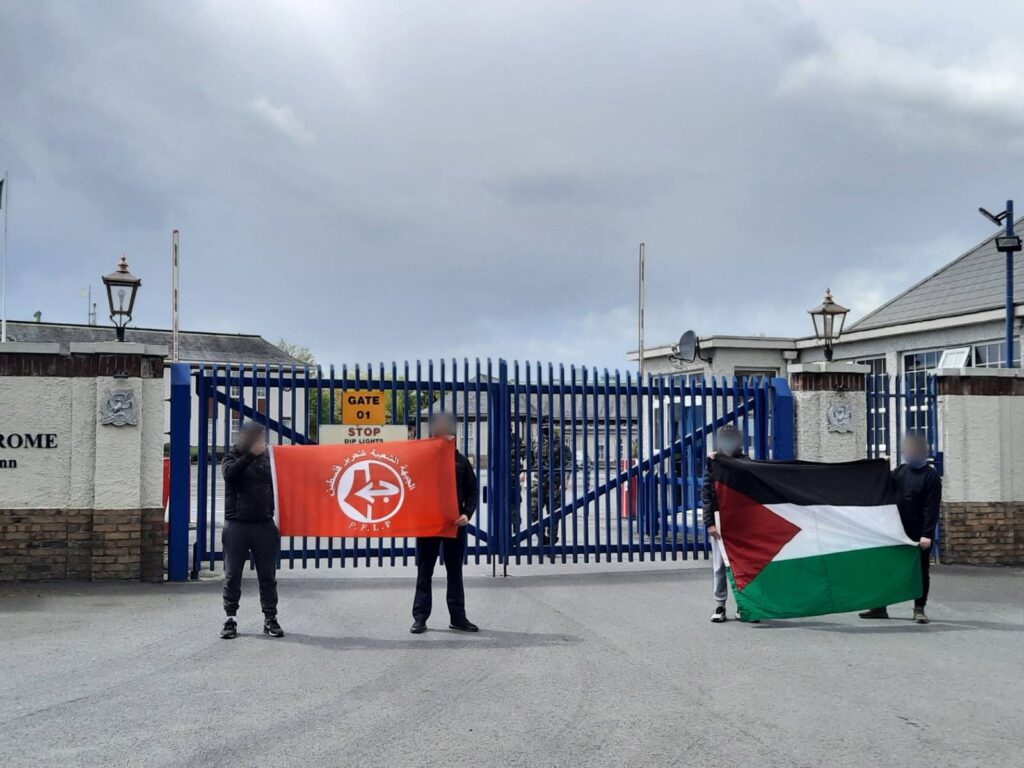 On May 19, following news of a US War Plane at the Free State Military Base at Baldonnell in Dublin, Irish Socialist Republicans held a lightning picket at the base, in solidarity with the Palestinian People and in protest of the presence of the US Imperialist War Machine in Ireland. The protest resulted in the Free State Military locking down the base, with a clear message that the Irish Working class will stand with Palestine and will oppose the presence of the US War Machine in our country.
WICKLOW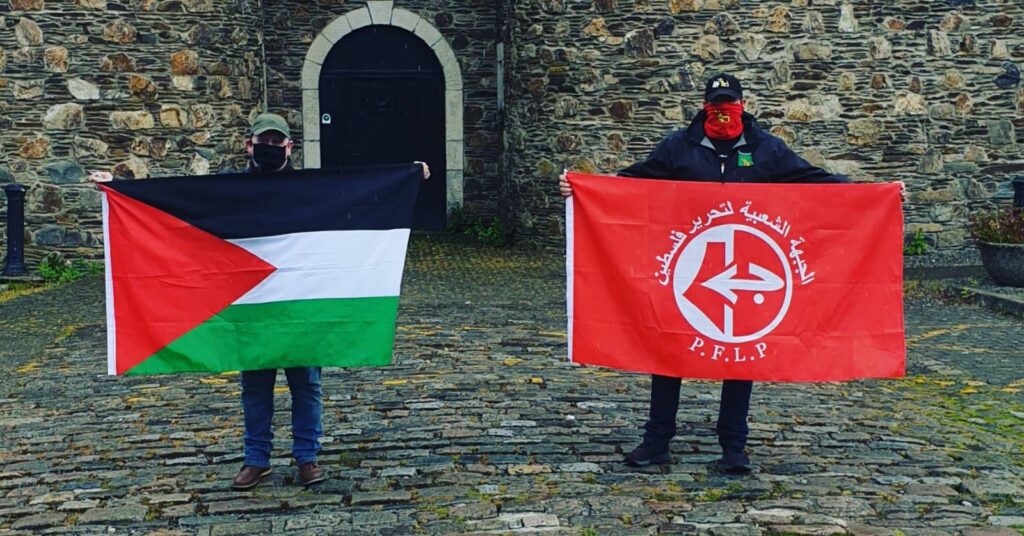 To mark Al-Nakba, on May 15 Socialist Republicans in Wicklow held a vigil in Solidarity with the Palestinian Resistance outside Wicklow Gaol in Wicklow Town.