Earlier today, in an act of solidarity with the Palestinian People, and to protest the presence of US Imperialist War Planes in Irish Airspace and at Irish Airports, members of Anti Imperialist Action Ireland held a demonstration at the Free State's Military Airport at Baldonnell, co Dublin, were a US War Plane landed yesterday.
Holding a large Palestinian Flag, and the Banner of the Popular Front for the Liberation of Palestine, the Socialist Republicans held the demonstration at the front gate, which led to the Free State Military immediately locking down the base and closing the gate.
Anti Imperialist Action believes that the recent increase in US Military flights in Ireland is directly related to US Imperialist operations in support of the illegal zionist occupation of Ireland. Today's action was taken to demonstrate solidarity with Palestine, but also to make clear that Socialist Republicans will no accept US Military operations in Ireland or the presence of the US War Machine at Shannon or Baldonnell. Anti Imperialist Action believe that a mass popular campaign is needed against the presence of the imperialist War Machine in Ireland and are actively committed to developing one with like minded groups and individuals.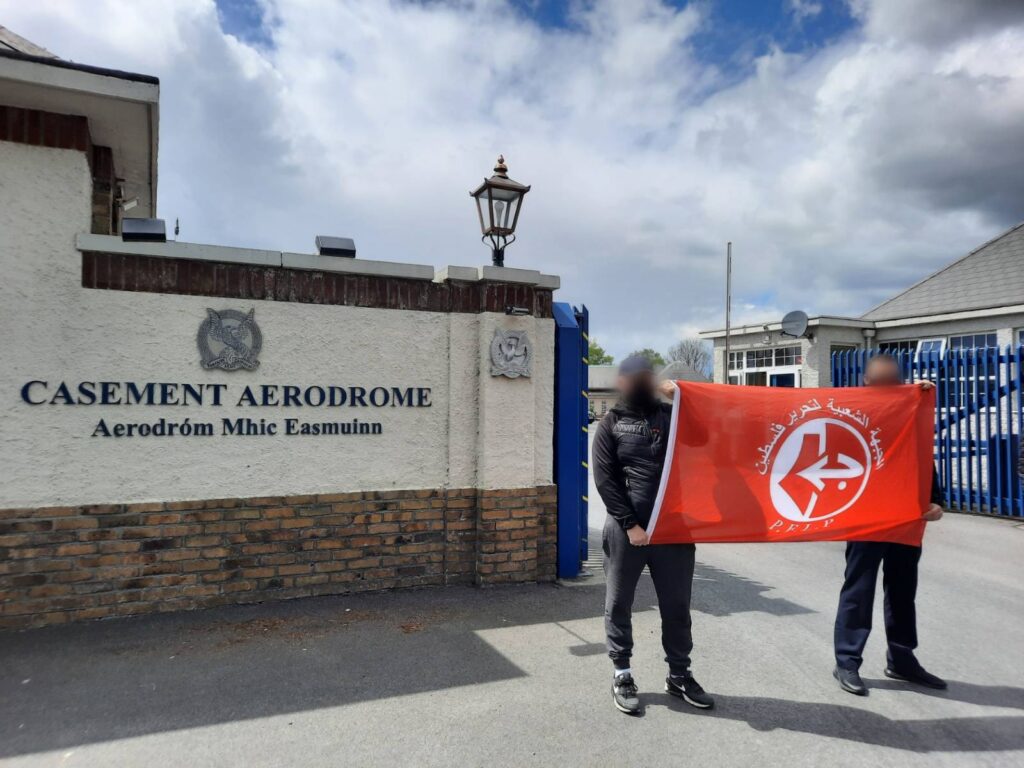 The presence of the US War Machine must be opposed by all progressive forces alongside opposition to the ongoing illegal British Occupation of Ireland and the crimes of imperialist multi nationals and vulture funds across the 32 counties.
Anti Imperialist Action is campaign across the country against British, EU and North American Imperialism in Ireland. If you would like to play a part in that Resistance, then contact us today on isrmedia@protonmail.com